Today, because of the restaurant pager system, waiting in line is a frequent experience when eating out. Many diners believe that the restaurant pager system is obsolete.
A popular restaurant consistently packed with customers appears to be where everyone wants to be. Fine dining establishments frequently accept reservations thanks to the restaurant pager app, fitting with a more formal, elite ambiance and leisurely dining pace.
To speed up turnover, prevent no-shows, and seat more customers, casual eating establishments with a digital restaurant waitlist typically choose the "first come, first serve" strategy.
Read on for the newest details on the digital waitlist, including what they can do for you if you want to use the restaurant pager app to control customer turnover. Let's begin.
What are the varieties of paging systems for restaurants?
When the hostess takes your name, she offers you a pager, a little plastic box. After then, you are free to move around the restaurant's vicinity until the pager vibrates or lights up, indicating that your table is ready. These are the several types of paging systems that most restaurants use.
Visitor Paging
It is utilized by restaurants when there are a lot of customers waiting for tables at particular hours and on specific dates. You may give your clients a pager to use while they stay with the guest pagers.
Fast Casual Paging
It is employed in establishments where diners must place their orders and then wait for their meals while seated. The servers give the guests the pagers, after which they call them when their orders are ready.
Server paging systems
Server pagers are employed in restaurants with food runners or servers. Each staff member or specific staff member has a pager they may use to notify them if they are required in the kitchen quickly.
Wireless Call Button system
The wireless call button system is majorly for restaurants wishing to go above and beyond with their customer service. Customers may easily page their server and let them know what they need by pressing a simple Call Button on each table.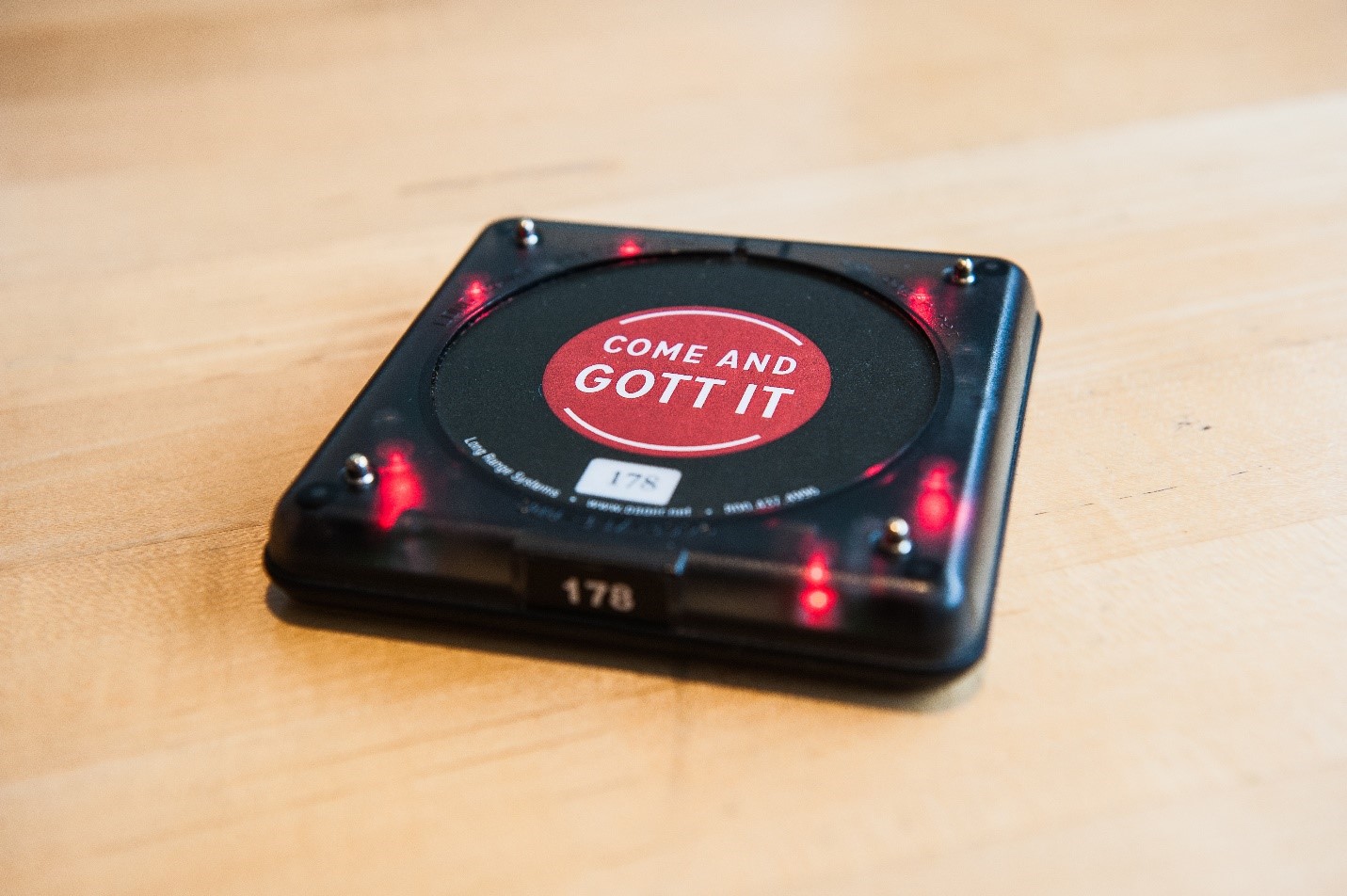 Author credit: By star5112 – https://www.flickr.com/photos/johnjoh/7044285155/, CC BY-SA 2.0, https://commons.wikimedia.org/w/index.php?curid=74766517
What are the reasons why we still need pagers?
Here are some of the reasons we still need pagers in our restaurants:
Use simplicity
Compared to digital restaurant waitlists like restaurant pager apps, the usage of restaurant pagers requires little to no training, and you may realize their advantages immediately with minimum installation.
If your client is not adequately trained to utilize the digital waitlist, the restaurant may experience sluggish service and lengthy waits resulting in an unhappy customer experience.
Group interaction
Customers may place simultaneous orders for your restaurant employees via pagers. This technique is significantly better in speed, simplicity, and dependability. It's perfect for crowded restaurants that simultaneously get the same orders since it cuts down on actual and perceived wait time.
Have batteries with a long life
Unlike mobile phones, the majority of which need to be plugged in at least once a day, restaurant pagers are powered by replaceable batteries and do not require power to charge. You can do little if the power goes out and your phone dies, but a pager only requires a fresh battery to function correctly.
Reliability
Instead of using the same transmitters as mobile networks, pagers employ more vital transmitter wires to deliver messages further. Reliable communication must continue even if the cellular network is down, say during a busy dinner, to prevent long waits and congestion on the property.
Advanced technology
Since pagers have been around for more than 50 years, technology has had a chance to advance, eliminating faults and problems that would have led to long wait times and decreased customer satisfaction in restaurants, leading to walk-outs.
What are the benefits of using pager systems for restaurants?
Using a paging system at a restaurant has several advantages, some of which are listed below:
Efficient pick-up and queue
Giving out pagers to your customers as you take their orders will make order pick-up and queuing efficient because they can return to pick up the meal when it's ready.
Boost the level of service
Your visitors won't have to wait or stand in line to eat. They can wait elsewhere or take a seat at a table if you have one set up, only to make themselves available when service is about to begin.
There are no lengthy lineups at mealtimes
You can avoid long lines by letting customers wait where they like, take a seat, or wander the area while they wait for their meals, especially during busy mealtimes. Customers may also choose to wait for the meal or wait for a notification at their place of choice for pick-up.
What are some of the advantages digital waitlists have over pagers?
A brand-new generation of technology has emerged that allows you to modernize your restaurant queue by making it online and enabling you to send alerts to your customers' mobile devices easily. The benefits of restaurant pager apps over pagers are as follows:
Visitors may access their waitlists from any location
It can be challenging for hostesses to know which tables should be held for incoming parties when moving around the floor without a list since one copy of a restaurant pager is frequently on the host stand.
You can sign in concurrently from several devices, including mobile phones, and get the same information everywhere with digital waitlists. The best aspect is that this data is updated when you add or serve the guests.
View guest feedback
Pagers used in restaurants are only one-way communication tools. Digital waitlists have a Text messaging tool which is a two-way street enabling your customer to have instant information about their waiting periods.
For instance, if you want your customers to confirm or cancel their place in line, you can reach them immediately through your confirmation or ready notification. This ensures you don't wait impatiently for a party to return before alerting the following group.
Less costly
The high cost of pager purchases leads to a reduction in the restaurant's revenue. The repair costs for restaurant pagers are also prohibitive owing to damage or loss. Compared to digital waitlists, which are just loaded on customers' cellphones.
Restaurant pager apps have an unlimited range
Nothing makes consumers angrier than having to wait in a restricted space. When consumers choose how and where they wait around, wait periods pass more quickly, increasing the likelihood of returning.
Reduces overcrowding while not turning away potential visitors
Restaurant pagers apps allow customers to wait on their terms; they won't linger in the waiting room, by the host station, or at the register. This indicates that potential buyers will register their names despite queues and crowds.
More straightforward to read and control
Restaurant pager apps enable you to immediately assess how long each guest has been waiting and whether they have been waiting longer than you estimated. In contrast to restaurant pagers, where names are hard to read, your list is full of messy cross-outs.
Gives you a ton of information
When using pager systems, you discard the days' worth of wait time data. You can monitor all of your visitors, alerts, and waits with the digital waitlist. It also provides you with simple-to-read charts to monitor your wait times over time and make adjustments.
Indicate where each person is in the queue
Restaurants can frequently use digital waitlists to show customers where they stand in line and even provide them a link to it in the confirmation letter. The one thing that paging systems are unable to deliver.
Recognize and honor devoted clients
Digital waitlists allow you to keep track of your visitors' names, addresses, and contact information, which may be used to identify devoted clients. This makes it possible for you to monitor their accounts, enhance your services, and thank your most loyal clients for continuing to dine at your restaurant.
Foster guests and staff interaction
When hosts are more effective at managing their waitlists, they can devote more time and energy to interacting with consumers. The front-of-house staff is essential to fulfilling your service commitment, and if they are overworked or under stress, they won't be able to project the best image of your restaurant.
Digital waitlists don't need to be updated or maintained
Restaurant paging system vendors benefit greatly from selling you warranties and doing repairs since pagers act up regularly. Restaurant pagers need to be regularly washed and cleaned because various patrons utilize them. Therefore, the restaurant digital app is preferable because they don't require regular upgrades.
Conclusion.
The most prominent option for you to flourish in the restaurant industry right now is to become digital. Given that most restaurants directly provide online ordering to compete in the market, digital waitlists for restaurants are beneficial in reducing wait times and increasing customer satisfaction.