You're more obvious than you think if your restaurant still utilizes pencils and marker boards for the menu. During busy times, customers who enter these establishments may notice empty tables with people gathered around host stands and workers shouting party names among a swarm of eager diners.
These eateries are a complete mess, with angry customers and perplexed staff members. Fortunately, table management is a workable answer to this persistent issue. Your fastest path to profitability is to be able to handle your tables well and flip them rapidly.
Let's examine what a restaurant's table management function entails, how to make it more efficient, and what it can do for you. Let's begin.
What is table management 
It might be challenging to efficiently seat customers, take and serve orders, and keep them pleased while they eat. Table management is a method for turning tables quickly by keeping tabs on tables and supervising diners during their meal.
It facilitates greater client satisfaction and a more significant profit margin while assisting employees in avoiding misunderstanding. The best way to understand the management of tables is by first understanding the tips for improving your restaurant's table turnover rate.
What are the tips for increasing the restaurant table turnover rate?
As a restaurant owner, you want to ensure that every table is utilized fully. Since your revenue increases the more extended, they are kept busy.
This is why table turnover is a crucial indicator of a restaurant's performance. It ensures that your employees can serve as many customers as possible without degrading their happiness; it helps you strike a balance between turning tables and offering a positive guest experience.
Let's look at some suggestions for enhancing table turnover in your restaurant to increase revenue.
The efficiency of your restaurant may increase while the quality of service can improve from decent to great with well-trained employees. Training your staff will reduce turnover and increase client happiness by streamlining your process.
Organize the way you run your kitchen
Ensure that the food is cooked on time and that all kitchen duties and procedures are correctly established. Process confusion may cause delays and bottlenecks in the kitchen, slowing down service and eventually the rate at which tables are turned over.
Keep your menu short and sweet, and provide descriptions and images to reduce the need for additional explanation. The visitor and the waiter will benefit, increasing your table turnover rate.
Include a virtual waiting list
Another excellent technique to increase your table turnover rate is to have an online waitlist where customers can sign up without going to the restaurant. You may inform your customers as soon as the tables become available, eliminating the need for them to wait in queues for tables to become available.
Serve visitors as quickly as you can
To boost customer satisfaction and shorten service time, your waiters should approach each visitor shortly after they are seated at the table.
How can the table management system lower the turnover rate of tables in a restaurant?
Your restaurant's table turnover rate may be significantly increased by implementing technology like a table management system. Its cutting-edge features contribute to increased operational effectiveness and a more organized flow of activities.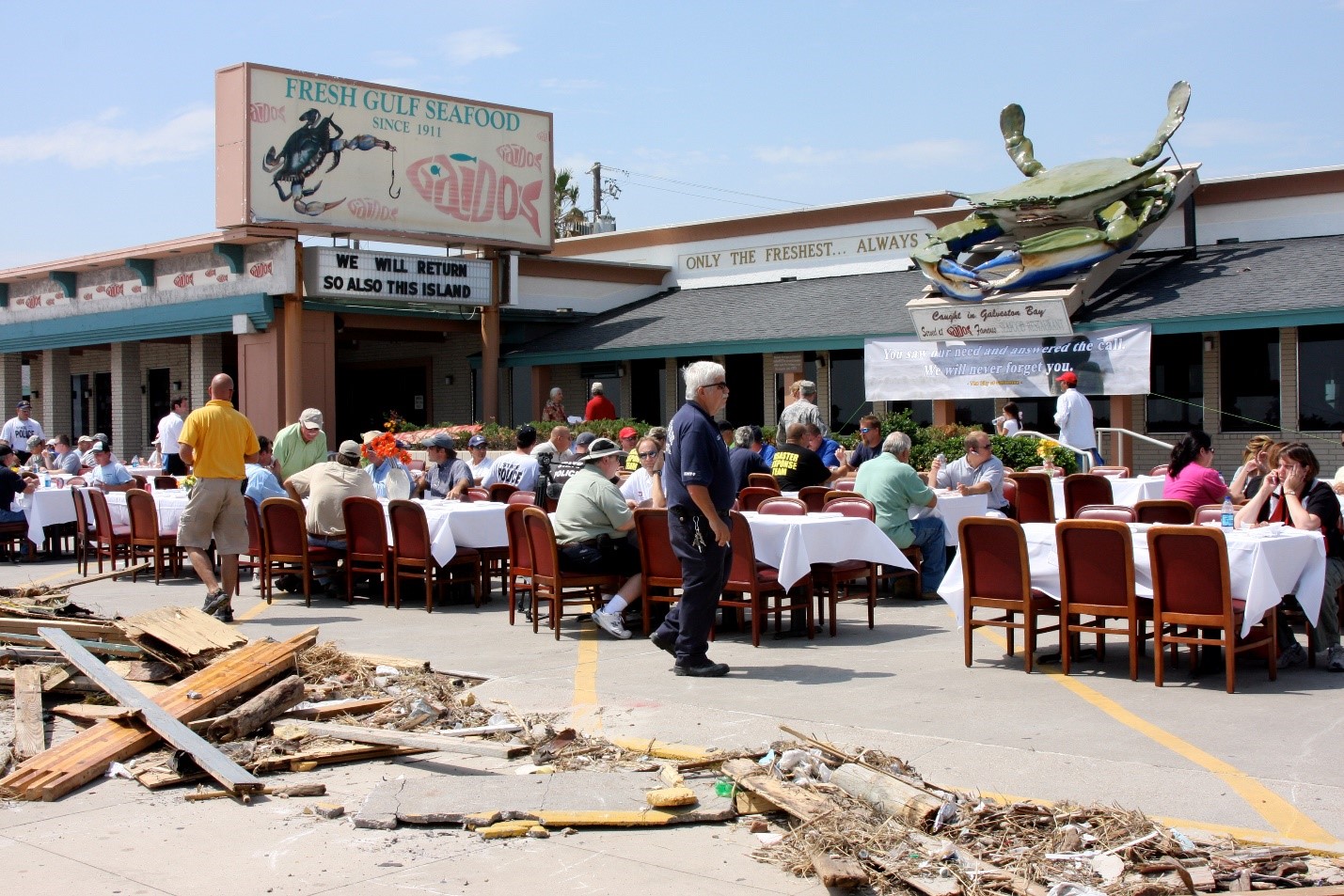 Author credit: By Robert Kaufmann – This image is from the FEMA Photo Library., Public Domain, https://commons.wikimedia.org/w/index.php?curid=8072180 
The following are some ways that the systems might increase the turnover rate in your restaurant:
Simple and efficient online booking procedures make it easier for customers to make reservations, which helps businesses be more ready for forthcoming shifts.
Table management solutions provide your employees access to client data, such as preferences, previous visits, etc., before guests enter the building. This makes it simpler for them to serve the diners effectively and efficiently.
The eat app may have comprehensive reporting features that enable business owners to better understand their establishment's performance and take appropriate measures to increase turnover rates.
What table management advice should every successful restaurant have?
Here are some suggestions to help in  the management of tables at the restaurant, which you presumably currently do in some capacity:
Make your tables unique to your location and space
The size of your room and the kinds of people you serve should be considered while choosing the table. Keeping track of the number of guests you serve each day can help ensure that you have the appropriate seats.
You can use the data to evaluate which table sizes are most practical and whether you need to adjust them depending on the season.
Outline the steps for turning a table
You can increase table turnover, but you do not influence how long a particular group takes to finish its dinner. You may, however, choose how long there is in between seatings.
Create a procedure that makes the most of every minute by considering everything you have to do between one person departing and the next seat.
Use insights to help servers
You can use sales information to enhance the effectiveness of servers. You should be able to determine which servers are turning the most tables so you can come up with new ways to boost revenue.
For instance, a server may not make the most use of its time if they constantly undersell compared to other servers. Discovering the ideal methods for speeding up services will aid the servers.
Keep a record of your clients
Make sure you keep track of these clients' interests and average dining duration as you cultivate your base of devoted customers.
Your employees can serve clients a better meal if they are aware of their preferences and the typical eating experience, and you can predict when the table could turn if you do.
Make a system for servers so they may be attentive without being intrusive
For a better customer experience, place a server station nearby so staff can readily grab water, cutlery, etc., and serve visitors without disrupting talks.
Most crucial, be explicit about your expectations for service when training each team member, and often offer feedback.
Balance out the server workload
It's straightforward, especially when things become hectic. To effectively serve each customer, you want each server to have a region they cover.
The quality of service for your clients may suffer if, for example, one server is serving three tables while another part is empty. Therefore, you want to ensure that clients are dispersed equally among those places.
Reduce the amount of time spent setting the table
The period between one visitor leaving a table and another taking its place is known as the prep time. By taking care of the table preparation time, many establishments lose out on customers.
Additionally, it causes long lines and disgruntled customers. Utilizing table management software can enable you to guarantee maximum client happiness and table productivity.
Restaurant managers frequently aim to avoid bookings for special events like birthday parties so as not to interrupt the regular customer flow. Special reservations, however, can also be quite profitable and helpful in building a business.
The secret is to identify your busiest times and work to secure large reservations outside of those periods. Taking such bookings may promote your restaurant to the organization for more orders.
Utilize a reservation application
Most guests prefer to make their reservations online, and an app makes it simple to control the entire process. By utilizing booking apps, you can be sure about both your open tables and the reserved ones in your restaurant.
What advantages does the table management system offer?
The following are some of the advantages:
Imagine going into each shift knowing precisely what needs to be done and having a clear view of all incoming bookings. That type of viability is what the system provides.
Guest wait times will be minimal if you can immediately check which available tables. You will also be able to give wait times that are more precise than before.
Tables are just as much inventory in a restaurant as food products are. You may boost cover, make your area work harder, prevent misusing tables, and decrease turn times by doing these things.
Being proficient at managing and flipping tables is the shortest route to revenue. In the end, the more customers you can serve and the sales you can make depend entirely on the number of times you will turn the table.
Understanding restaurant traffic
Understanding restaurant traffic will help you manage tables effectively. For instance, you should plan fewer employees on days that usually have lower traffic is slower. Long-term savings come from making personnel and food preparation adjustments in light of these discoveries.
Conclusion 
The demands of your restaurant and your present table arrangement will determine the best table management solutions. This allows you to simplify the management of table procedures to benefit your personnel and clients. Using the abovementioned tactics, you may have an efficient and knowledgeable restaurant.