In the beauty and cosmetic industry, good customer relations are vital in ensuring your business stays afloat.
The list of things that can cause customer experience nightmares may include; conflicts resulting from salon scheduling, missed salon appointments, too many bookings, and confusion due to double-booking. All these can make your customers turn their backs due to a poor experience. But you can reduce such trouble with useful salon scheduling software.
Often, customers will recall every minute's experience rather than the overall quality of the services offered. Watch out for these minor details as they can significantly influence client decisions to keep coming to your salon.
Time is money, so frequent difficulties with appointments can ruin customer relations. This article will discuss the techniques salon businesses can employ to prevent such problems and create a desirable customer experience.
The first step is to find dependable scheduling software to bring in more business to your salon.
Being organized is essential in your salon's success, and that should start from the software you implement.
Begin by thinking about the sorts of situations that might cause salon scheduling conflicts.
Some of the risk factors include:
Wrong appointment dates and time
Delays in appointments
Failure to show up for an appointment or coming late
Salon owners must strive to deal with these simple mistakes to ensure their clients stick.
Below are tips to create an efficient salon schedule that will move your business to a higher level and keeps it organized as well.
Tips to Improve Your Saloon Scheduling Strategy
As your business expands, the use of calendars and manual salon bookings may be problematic. An excellent way to automate processes is to implement an integrated salon scheduling software.
These tools manage all your appointments and handle all customer requests online.
1. Allow online booking through a Comprehensive Scheduling Software
With a user-friendly online booking system, your customers won't struggle with phone calls or wait for the salon to open to book a session.
How to Make Salon Appointments Online
To make online appointments, the client must be provided with the salon's calendar (accessible on the website) from which they can book sessions.
If a client wants to register for multiple salon services, the system automatically allows them to add all in one appointment.
Since the software configures the salon's calendar, all the internet bookings will synchronize with the salon clients showing customers when you are available.
The Pros of Booking Saloon Sessions Online
The merits of an online booking system include;
They prevent incidents of double-bookings and other possible mistakes when booking sessions.
They also enable your hairstylists to create schedules every week.
The override salon hours feature enhances your employees' flexibility enabling them to take extra appointments.
The system alerts you of all new appointments once an online booking has been made. Once your salon receives the notification, you can accept or reject it, which still gives you total control over your salon calendar.
Some software solutions sync with your salon POS.
An online booking system enhances workplace organization, saves time, and offers customers a desirable experience.
Salon scheduling software is very accessible for clients and salon owners. Anyone can have access through various devices like mobile apps, desktops, an iPad, etc.
2. Check Your Saloon Schedule Everyday
As the salon owner, double-checking your schedule every day is a must-do. It helps you monitor all bookings.
If you are too busy to go through it, delegate someone to analyze it every day, and give feedback. Ensure the scrutiny happens in the morning to stop any issues that may arise.
3. Prepare well for all Bookings
You must understand your day's schedule and prepare well for the type of appointments ahead.
Early preparation is an effective management strategy in ensuring maximum productivity and avoiding overlapping timelines.
4. Reduce "Missed Salon Appointments" to a Minimum
Any final-minute cancellations and missed sessions put your salon business at financial risk. Nothing can be off-putting to your team as waiting for a client in vain. Plus, it affects your schedule and overall sales potential.
The best way to reduce missed salon appointments is to implement and notify your clients of a strict no-missed-bookings policy. Ask them to inform you of cancellations early so you can have another client come in during their time.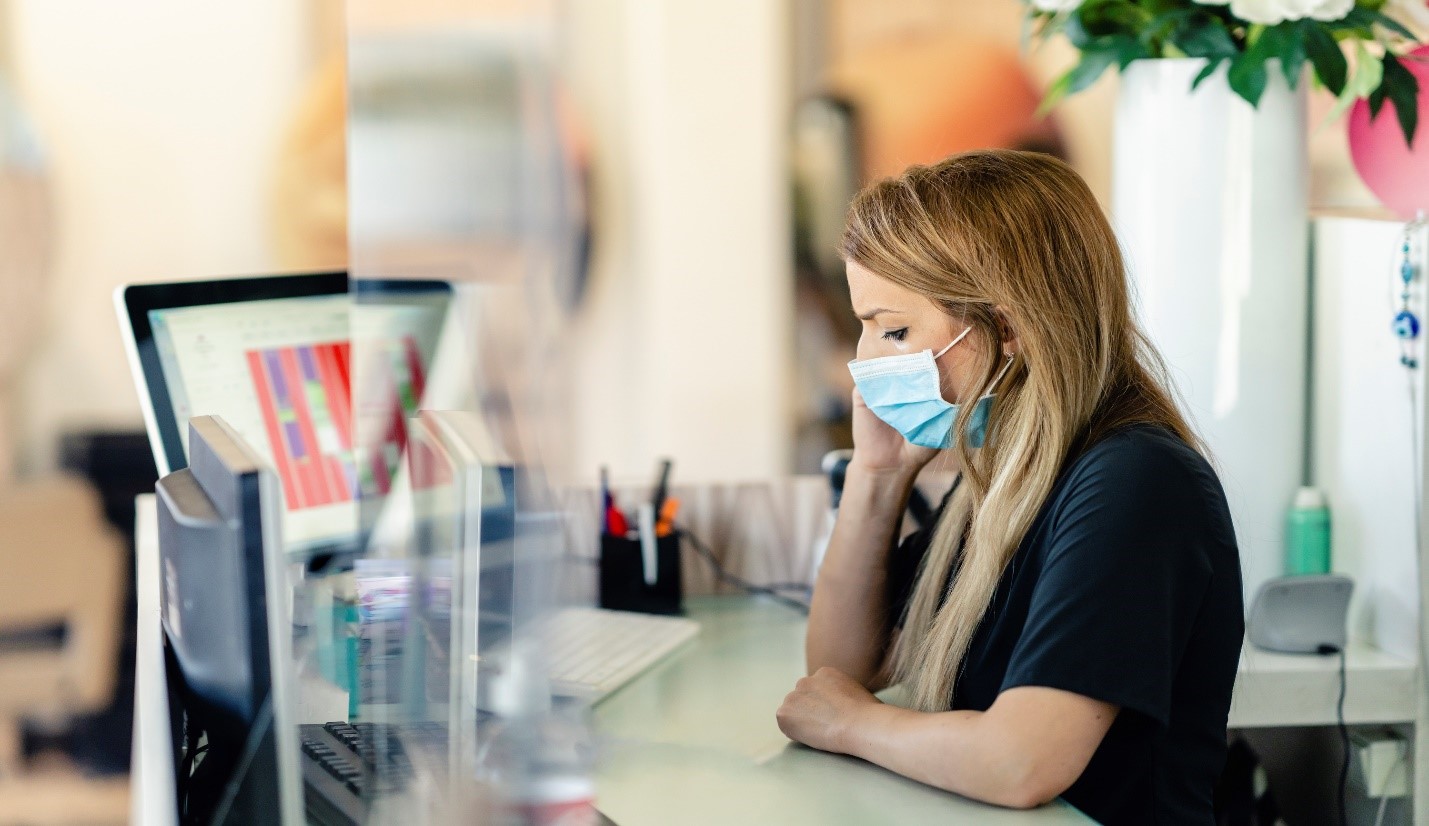 Again, with a capable salon scheduling software, you can collect customer credit card data earlier than the appointment.
And while it's not okay to remit the payment from the client's card immediately, it's possible to apply a fee for anyone who skips their appointments or cancels too late. Clients should cancel between a day to two before an appointment.
Another strategy to reduce missed and final-minute cancellation at your hair salon is to drive repeat visits and client loyalty by encouraging pre-booking.
You can achieve this by including special offers for clients who rebook. Be sure to spread the news of this offer via emails.
5. Use Creative Ways to Remind Clients of Upcoming Appointments
Communicating well with your customers can help them adhere to booked appointments and streamline your salon scheduling.
A polite reminder may reduce the chances of missing appointments and establish a good rapport with your clients.
You can also have your follow-up done through text reminders or making calls to confirm client appointment details.
Custom calls and messages build relationships and better the understanding between you and clients—this software stores the notes to refer to while confirming a client appointment.
Send all reminders early and confirm with customers in advance to prepare for the changes that may arise.
6. Actively Update Client Info
Have a clear and updated record for all the clients in your salon scheduling software.
You can achieve this with the aid of a robust customer directory system that enables you to create client profiles with their contact information and notes.
Access to current client info helps you contact them quickly if you need a reschedule for their appointments or would like to enquire.
These tools will also teach you how to add customer notes based on previous services, which helps you prepare before their next visit.
And for the icing on the cake, salon software may as well store client payment data for regular guests. This makes the payment process very simple and efficient.
7. Plan for Walk-ins
Don't hesitate to cater for the clients who walk if you aim to maximize customer retention. These clients matter because they grant you a huge opportunity to counterbalance any shortcomings in your salon schedule.
Empty seats are a loss of revenue for your business, and here are tips to help you generate more money from the clients who walk into your salon without a booking.
Spare some time in your calendars for clients who walk in.
Do reviews of your salon's reporting and analytics system. This will help you plan well for busy hours with your team and delegate time for customers who walk in.
For such clients, go for those who can be served in the shortest time possible to avoid interfering with bookings.
8. Make the Most of Your Salon Reporting software
Strive to offer more comprehensive services at your salon. Ensure employees act swiftly to reduce time wastage.
The time a customer spends at your salon is based on the type of services they requested, which may be beyond your control. So it all depends on how well you plan your team and time.
You can include multiple options for your clients to choose from in the salon scheduling software. For example, you can give customers three options for a haircut: short, medium, and long.
Ensure you differentiate a partial versus full highlight for color options. These small variations can help you calculate the time you are likely to spend on each client.
Another useful time management technique is providing your employees with continuous training to better their skills. This can help reduce the time a client spends on a chair.
The Bottom line
The secret to thriving in a salon & beauty business is to keep clients happy and loyal to your brand. Therefore, when making your schedules, be sure to prioritize customer satisfaction.
And avoid pushing clients to their limits. Remember when you overbook, workers will be exhausted, and the customers kept waiting in the queue may also be irritated.
All you need is to learn simple tips to help you create and optimize your salon schedule. Go for user-friendly and affordable salon scheduling software that will bring more business to your premise.
You can also cut down the appointment stress by utilizing its calendar management strategy to improve your scheduling process.