Customers' habits and tastes are changing rapidly today, and as a business, you need to find a method to satisfy them since they want the best. Queue management puts you one step ahead of your clients regarding satisfaction and happiness.
Queues are inevitable in the workplace, primarily if your organization deals with walk-in clients. Controlling the flow of your company's wait line is crucial for ensuring your consumers are content and continue to be interested in your brand.
Your company can benefit from using an electronic queue system to maintain the lines and improve client wait times. Additionally, an electronic queuing system controls consumer wait times by informing them at each step on the waitlist.
In this post, we'll go into greater depth regarding electronic queue systems, including the qualities to look for in one.
What is an electronic queuing system? 
An electronic queue system is a digital service that electronically moves the physical queue to the online domain. Customers digitally sign in to a line, removing the need for them to stand in one place.
The system has numerous interaction points, beginning with the customer's demand for the product or service. You must strengthen these points of contact to provide an optimum customer experience.
An electronic queue system is a software and hardware combination that provides your company with the tools it needs to watch, plan, forecast, and control the client experience from pre-arrival through departure.
How to Set Up a Queue Management System?
Although the provider installs and configures the system, there are some measures you must consider throughout the installation process. The stages for building an electronic queue management system are as follows:
Determine your business requirements
The role of a queue management system varies depending on the organization and industry. As a result, the initial step will be correctly identifying your demands in collaboration with the provider.
When determining the need, establish a list of all the services you offer to decide which ones need to be improved. You may walk through the customer experience through each interaction point to quickly identify holes and interruptions in your customer journey.
Set specific goals
Organizations should jointly agree on targets and expectations and plan the implementation with the queue management system supplier to achieve high quality, cost savings, and effective timing during the implementation phase.
When creating a queue management system, one crucial goal is determining the acceptable wait time for each queue. The system may then configure to contact clients nearing the end of their service levels.
Test the system before launch
You would have to set aside time once the provider has set up the software and installed the hardware on your premises to test and verify that the solution fulfills your objectives and expectations.
Develop the necessary skill sets
Your staff must learn the proper skills to get the most out of the queue management system. You may provide them with sufficient instruction on operating the system software.
Evaluate and refine
Make sure to constantly analyze the queue management system's outcomes to ensure it fulfills your demands and objectives. You may work closely with your suppliers to fine-tune them if necessary.
What characteristics should an electronic queuing system have?
An electronic queuing service allows businesses to follow their guests' movements in real time. Here are the key points to remember to get the most out of today's plethora of software possibilities.
Online functions
As a business entity, you should search for an electronic queuing system with characteristics that allow you to operate without having to stand in one place.
As a result, it should include features such as a table management tool that allows you to efficiently allocate seats to arriving guests from anywhere in your restaurant. So the most you can hope for is a simple and portable system.
Features for messaging and two-way conversation
Offering SMS communication tools to business owners to help manage electronic lines is arguably the most crucial function of an electronic queue system.
An electronic queuing system can operate thanks to this feature that enables two-way texting between customers and the business owner. Customers can exit the premise, avoid the line, and, most importantly, communicate with your personnel about their whereabouts.
Integration of a POS system and an electronic queuing system
It's crucial to think about how the system will work with your queue management solution, primarily if your company employs electronic software to handle card payments.
An electronic queuing system has to connect with your company's present POS configuration through point-of-sale connectivity.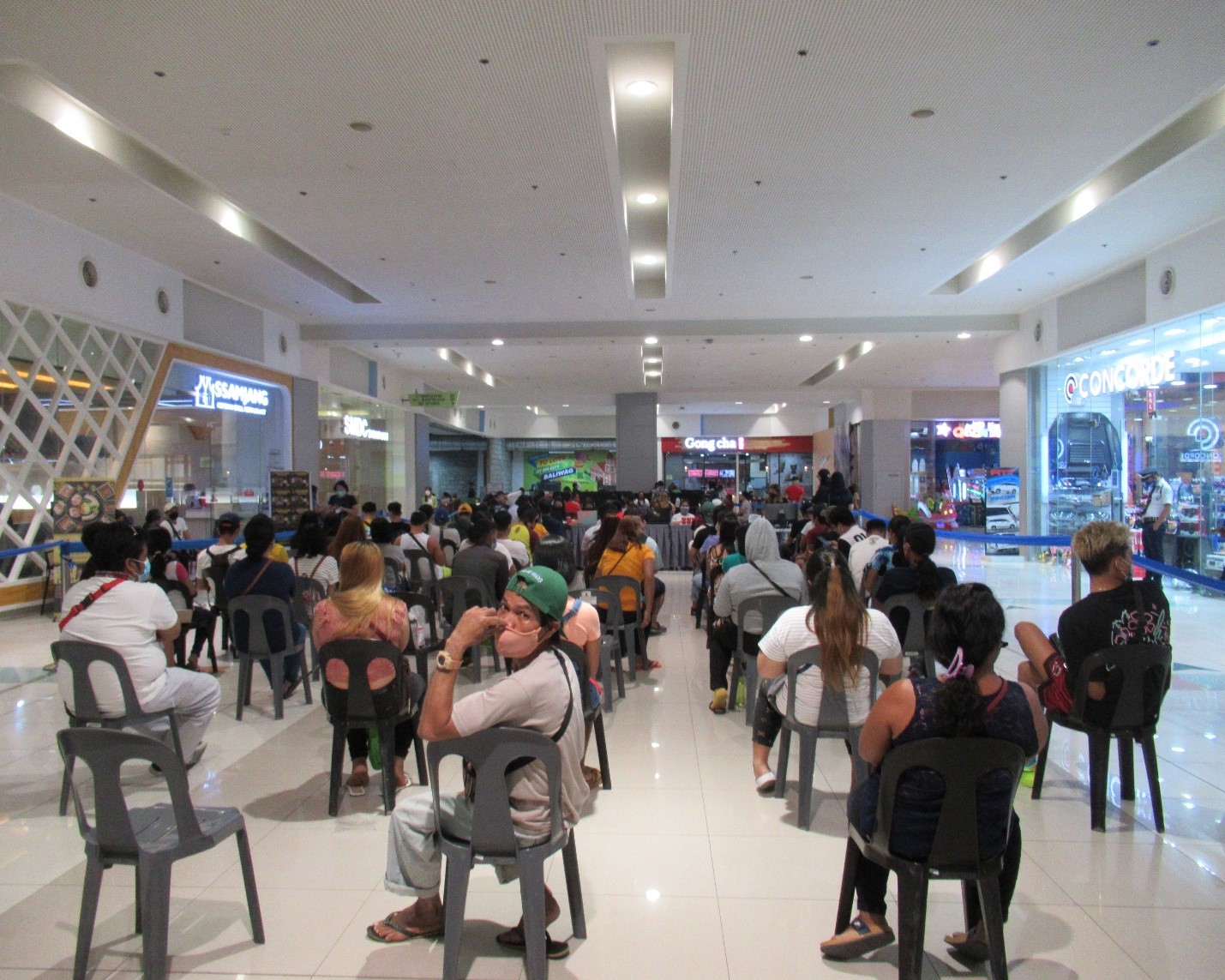 Author credit: By FBenjr123 – Own work, CC BY-SA 4.0, https://commons.wikimedia.org/w/index.php?curid=115425900
This clarifies the problem and streamlines the day-to-day operations of your business. POS integration will be helpful if you want items like sales reports that automate the data transfer of how many customers you serve in a queue.
Customization
Businesses come in a variety of shapes, sizes, and looks. You should be able to alter the settings of an electronic queuing system to fit your company's routine. An excellent electronic should adapt to the dimensions and aesthetic of your company.
Always consult an expert when unsure which system to use in your company. This may seem like a long shot, but it will save you from having to learn the hard way after the system is in place.
Pricing
The cost of the queuing mechanism is critical because you may need to pay extra to benefit from membership status, in addition to the initial charge for signing up for an electronic queuing system service.
Even though many businesses provide a free trial period, the purpose of the trial time is to ease you into the service and then eat your money without your awareness later on.
Moderation
Look for timer features; after providing a consumer with an estimate of how long they will have to wait, the system should employ analytics and data to provide customers with realistic time estimates on which to rely.
Look for real-time service delivery as well; the system has to notify customers while they are away, reminding them that it is time to return without the fuss of tickets. Thanks to your computerized queuing system, customers should be able to arrive at your business premise with queue tickets already on their cellphones.
Optimization
Consider a mobile-first solution to improve the visitor experience and connect with your consumers. This provides your clients with a familiar and effective queuing solution by utilizing their existing devices.
Customer screening and prioritization
This feature ensures that you may distinguish between different categories of consumers, either through a prior mini-survey or by registration. This allows you to determine the service the consumer will require; for example, you may decide if the customer is visiting to purchase or to make an inquiry or a return.
Calendar implementation
This function can schedule appointments with particular salespeople or doctors and let them know when you will arrive at the business.
Location identification
This feature assists in identifying the location of the client's registered device or the branch from which the customer is requesting service, especially when your company has many components.
What are some factors to consider when choosing an electronic queue system? 
Some significant considerations to consider while selecting a queue management system are as follows:
Scalability
Any high-quality queue management system must be easily scalable in the future. Since client demand, expectations, and market trends are constantly changing, it is prudent to have a system that can adapt to shifting needs.
While your company grows, you will benefit from economies of scale, which means that manufacturing or production expenses will be distributed across more units, resulting in better profit margins.
A positive client experience is essential
The fundamental rationale for using an electronic queuing system is to increase customer happiness and travel. The queuing solution should be able to offer value at all points of contact with the client.
The queuing system should be able to take wait time and service delivery time into account to improve customer happiness and experience. Customers should also have access to all required amenities to enhance their knowledge, which will influence the customer's satisfaction and loyalty.
Inbuilt virtual queuing feature
Customers or visitors can sign up for the queue without physically coming to the branch, and they can even virtually wait in the waiting line, thanks to virtual queuing.
Customers may join up using various techniques, including phone calls, SMS, online customer portals, emails, smartphone apps, and websites. According to corporate policy, the electronic queuing system should be able to regulate the number of consumers.
Remote management and real-time updates
It is critical for customer experience and satisfaction to have a system that can track the record of each client's wait time and the time required by various parts of the customer journey. Your electronic queuing system should also be capable of immediately collecting user feedback.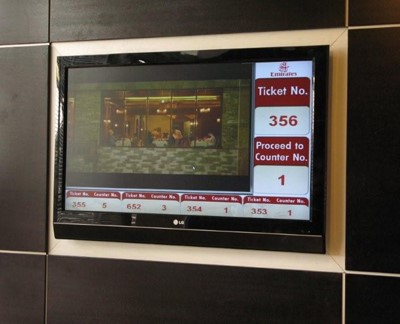 Author credit: By Wavetec – Own work, CC BY-SA 3.0, https://commons.wikimedia.org/w/index.php?curid=32894718
These qualities are incredibly beneficial to organizations in developing future goals and identifying areas for development, particularly when lowering wait time.
The kind of service you provide
The number of queues and service stations you have depends on your services. If you only offer one service, a few lines are enough, and you may have as many counters as possible. Still, different queues are required to guarantee that each customer reaches the relevant server if you offer many services.
Integration of a third party
Your company's departments employ a variety of systems in the course of their daily operations. The solution must interface smoothly with these platforms and support the installation of further third-party functionalities as needed.
Centralized administration
For big firms and organizations with several branches, having a system with centralized administration is essential for keeping an eye on and managing activities across all departments.
The electronic queuing system should streamline all branches' data and information about client lines. This will enhance information flow by exchanging data and information between departments, facilitating simple decision-making.
Omnichannel approach
Businesses that deal with clients from various demographics aim to serve customers in digital and physical venues. It would help if you ensured every single consumer had a positive experience.
An omnichannel, integrated queue management solution is necessary to guarantee that your service is available across numerous channels seamlessly.
What are the benefits of an electronic queue system?
Everyone who works in a customer-facing position can do their jobs more quickly if there is a solid queue management system in place. The following are a few advantages of electronic queue management systems:
Shorter wait times
One of the most common causes of consumer annoyance is standing in line. However, an effective queue management system will aid to counteract it by enhancing the flow and queuing procedure.
Visitors do not need to wait in line since an electronic queue management system notifies customers and staff of their status and maintains track of everyone's position in the queue. Additionally, based on their service requirements, it guides consumers to the appropriate line.
Make use of client information
You may get data for each queue in each location using an electronic queue system. The information acquired allows you to assess better your service condition, including client wait times, average wait durations, individual staff performance, the number of customers, and service times.
This allows you to generate a detailed report and track important performance metrics for your personnel. Enabling you to make rapid judgments across all departments and make adjustments as needed
Boost a customer's loyalty
A minor but significant boost to your service is shortening wait times. Without a sophisticated queuing technology in place, you run the danger of losing all of your clients. You can significantly lower customer complaints with an automated queue system, and this is the technique to increase client retention and loyalty.
Improve service quality
Customers that utilize an electronic queuing system get the freedom to check their queue status whenever it is convenient, allowing them to spend their time doing anything other than waiting in line. As a consequence, your consumers will think favorably of your company.
Furthermore, you may considerably improve your service level by using the input forms that show up upon sign-in. You may customize your offerings by carefully identifying and segmenting your consumer base. You may use every connection as a chance to establish a long-lasting relationship if you have a deeper understanding of your consumers and their demands.
Improve communication
Using an electronic queue system, you may serve consumers in their native tongue. Visitors choose their preferred language when they sign in, which helps you communicate with them and reduces misunderstandings.
An electronic queue management system further allows users to phone in visits. You may utilize automatic SMS alerts to inform customers of their impending turns, inform them of any delays or changes to your service, or take advantage of the chance to solicit insightful feedback.
Ensure employee satisfaction
Service agents must manage clients manually without an innovative computerized queue management solution. This results in improper queue management and poor time optimization.
However, because the queuing system handles sign-ins, staff members may use the time freed to provide enriching experiences. Your staff will notice a greater sense of purpose in their job since they won't have to worry about paperwork or traffic.
Minimize operating expenses
A successful queue management system has various advantages, including reduced wait times, increased productivity, and increased customer satisfaction, resulting in cost savings and improved operating processes.
In addition, unlike ticket machines and take-a-number methods, having your database electronically saves you a lot of money on unnecessary paperwork.
Increase your revenue
Not only does an intelligent queuing system assist in reducing queuing costs, but it also helps to increase income. The queuing system allows clients to make better use of their time by spending more time window shopping or perusing your business.
As a result of giving them back their time, you have plenty of opportunities to cross-sell and upsell your visitors. People in wait tend to pay more attention to their surroundings, so they may not continuously check the time and their queue status.
It promotes safer queuing
Potentially violating government guidelines by using an unsafe queuing system may dissuade clients from approaching your shop because it lacks the confidence they require.
An electronic queuing system enforces safer queuing since clients are not required to stand in a solid line but rather in a virtual queue. It may accommodate numerous people at once with little disruption.
Abandon risk reduction
Many customers will leave the restaurant if they see a disorganized crowd that has to be cared for before them. Customers may wait in their preferred location while waiting for a notification on their turn for service, which avoids congestion.
Creating welcoming environments
An electronic queuing system provides self-service check-in, and clients may go contactless and sign in using their cellphones. It may also personalize each client by capturing information and routing them to distinct queues, speeding up services.
Encourage hygienic measures
An electronic queue system helps to comply with hygienic regulations since a well-managed flow of people prevents the dropping of litter and needless dust at places of business.
Enhances the brand's and the location's reputation
Your company may project an impression of modernity, order, and efficient operation with an automated queuing system. These assist your customers in forming favorable opinions about your company, which helps you increase brand loyalty and market awareness. 
What disadvantages do electronic queue systems have? 
Despite their many advantages, computerized queuing systems have several drawbacks. Let's look at a few of these drawbacks.
There is no backup plan
The system does not intend to manage potential crises or unforeseen issues. Handling crises must take priority, and manually informing others of delays may create new problems rather than help to solve the ones that already exist.
Internet connection is a must
Your company and client need good internet connectivity and a steady signal for the system to perform as intended. Poor internet connectivity results in slow service or general no service.
System errors
Glitches and random or systematic faults are prevalent in every digital program and application, so electronic queues are no exception.
Cost
Implementing an electronic queuing system is quite expensive, and these queuing systems include an upfront setup fee and an ongoing fee which may eat up your revenue.
Management failure
It seems like a loss of management, especially for business owners who love micromanaging, and using a formal management system does not match their psyche.
Conclusion.
A powerful electronic queue system gives you the credibility you need to attract more clients while making it easy for them to visit your business. It will help you decrease wait times, tailor your service, utilize your team's skills to their total capacity, and provide a virtual queuing experience for your clients.