Waiting time is when a person has to wait to attain a particular service or attention after placing an order. It can also be defined as the duration of time between requesting a service and receiving it. Implementing good customer care services is a sure way to impress customers and retain them too. In a world of cut-throat competition, most businesses aim to minimize waiting time for customers, making them feel valued and appreciated to discharge services as soon as possible.
Waiting can be quite a hassle for many people and even worse for those waiting to get services or be served. There are occasions in which waiting time actually determines whether a requested service is worth waiting for and for how long.
 Strategies to Minimize Waiting Time for Customers

A business will strive to minimize waiting time for customers to get their needs addressed because the waiting period directly impacts the customer's behavior. It also determines whether they will be repeat customers or not.
Currently, customers have so many options available to get the services they need, and as soon as they need them, including opting for online services that are usually instantaneous. It is, therefore, a business manager's responsibility to implement and deliver exemplary customer care services. The following are some of the strategies to minimize waiting time;
Be courteous enough to let a customer know how long they will have to wait before they are served or attended. Prepare them psychologically by letting them know if they might have to wait a little longer, so they don't get agitated if there are delays.
Make it straightforward for customers so they know what to expect beforehand. If it's expected, communicate the reasons for a lengthier wait, and let them know they can utilize the time on other activities as they wait. Activities such as tending to emails and SMs, and going out for walks, are great ways to kill time.
Keeping customers informed will minimize waiting time enabling them to utilize their valuable time on something more productive than just sitting around. One clever way to manage expectations and even exceed them; is to make promises minimally and deliver maximally.
Give explanations in case there's a delay.
It goes without saying that time is a valuable asset that cannot be taken for granted. A business entity should always communicate with their customers if there's a delay in discharging their services.
There might be times when you cannot keep time on the delivery of your services as expected. Don't keep quiet about this kind of situation, for it will only make the customers agitated. Be honest, explain to the customers the reasons for the delay, and offer prompt apologies for the inconveniences.
Clients will be more at ease and comfortable when they know the reasons as to why their services have been delayed. Go out of your way to offer information before they come to you, demanding explanations. Customers are people too. They will understand that your business is experiencing delays and appreciate being honest and volunteering such information beforehand.
Offer employees proper training on the right ways in which to handle customers. An employee who has undergone the appropriate training is well equipped with skills to try different ways to minimize waiting time of customers. They will be well placed to communicate and solve any arising issues and ensure the customer is not subjected to a long, time-wasting wait period for a service or product.
The trained employee has good judgment and well-thought-out responses to calm any agitated customer. Also, they are well equipped to handle challenging situations and influence customer experience.
Enhance the customer's waiting area experience
As we found out earlier, waiting is not always a fun experience, and no one enjoys it.
Any customer would be frustrated and upset if they had to wait a long time to get a particular product or service.
Make the wait time a little more bearable for the customers by improving the waiting bay. Provide some entertainment such as TVs and magazines to keep their minds off the wait, and for them to keep off boredom. Ensure the area is spacious enough and well ventilated as well.
The ambiance should be more calming to the customers. Also, ensure the area is clean and well maintained throughout. The washrooms should always be clean and in good condition. Ensure there are enough comfortable seats for the customers to sit while waiting.
You can also provide drinking water by placing a water dispenser at the central and accessible point.
Organized Interactions between the customers and employees
Listen to your customers, and make sure their specific needs are satisfied. When customers offer suggestions, lodge complaints, give reviews and comments on services and products, ensure everything is taken into account, and address complaints appropriately.
Appoint service leaders who will be the coordinators of communication between the customers and employees. This is an essential strategy to minimize waiting time of customers by ensuring they get to the right counter as soon as they enter your premises.
The service leader waits by the door and warmly greets the customer before enquiring about their purpose for visiting. They then usher the customer to the appropriate place to get their services or products without any delays.
The greeting makes the customer feel valued and enables them to relax and ease with the employees. As a result of this, the waiting period will not feel too bothersome to the customer if they have to wait a bit longer to be served.
In instances such as when a customer gets to a banking hall, they state their specific requirement and get directed to the right counter to be done. This is one of the most typical strategies organizations, and business entities use to determine customers' waiting times.
Keep the Work organized and Flowing.
Another great strategy when implementing good customer care service is to ensure that the employees keep working actively to move the work. If Work is freely flowing from counter to counter or station to station, the customers will not feel as if they are waiting at all. Instead, they'll think they are moving fast and closer to the relevant service counter instead of just staying in a queue.
The urgency in the approach of employees will give reassurance to customers. They will feel that they are getting the best care from employees and won't have to wait unnecessarily to get the service or product they require.
Cases such as these have a psychological impact on the customer, as the waiting duration can sometimes be quite daunting. So much so that they can begin to question whether the wait is even worthwhile. Customers have targets to achieve too. Please help them to achieve these targets by showing them their needs are being treated as a priority.
Keep the Customers engaged.
Minimize waiting time of the customers by keeping them engaged with something as they wait for the services and products they require.
Don't let them wait in a line or some long queue, as this will make their perception of the wait tiresome and time-consuming. Distract them by making their attention focused on something else while they wait.
Install televisions, play soft and soothing music, and provide reading materials such as magazines at strategic places.
Please make sure the customers are always at the right point or station by installing signs to give them direction. The employees should always be ready to guide if someone needs it.
This strategy works so that the customers are not bored to death or get too wary of waiting for products and services. As they say, time flies when you are doing something enjoyable!
Interaction time of the customer and the employees should be reduced to the bare minimum. This doesn't translate to rushing the customer. Instead, the employees should be fast, yes, but still, patiently listen to the customers' needs. Moreover, they should show warmth and friendliness towards the customers as they interact with them.
Showing sympathy and natural helpfulness, will without a doubt, help you minimize waiting time of your customers.
Make it up to your Customers for Delays.
Good business practice dictates that customers should not have to wait. However, things happen, and customers will have to encounter waiting times at one point or another. When this happens, employees must be able to offer service recovery to make things right for the customer. Employees must show how sorry they are for causing delays in attending to the customer and promptly apologize for any inconveniences.
Sometimes, even doing simple things like giving a smile and a thank you can go a long way in ensuring that they are happy, and can even forget that they had to wait for some while
There are other ways to make it up to the customers to wait. Depending on their individual policies, an organization may compensate a customer for their lost time by writing off a part of their bill. This demonstrates the managers' commitment when it comes to implementing good customer care services. Courtesy gestures such as this one remain imprinted on customers' minds and turn them into loyal customers.
Identify and Rectify Constriction Points
Implementing all the strategies to minimize waiting time may sometimes not be enough to prevent waiting time from happening. There's always a chance that a constriction may occur at a point along the way, thus causing interferences in the workflow and eventual delays.
Identifying and dealing with these points will help to minimize waiting time of customers.
Put in place self-service mechanisms.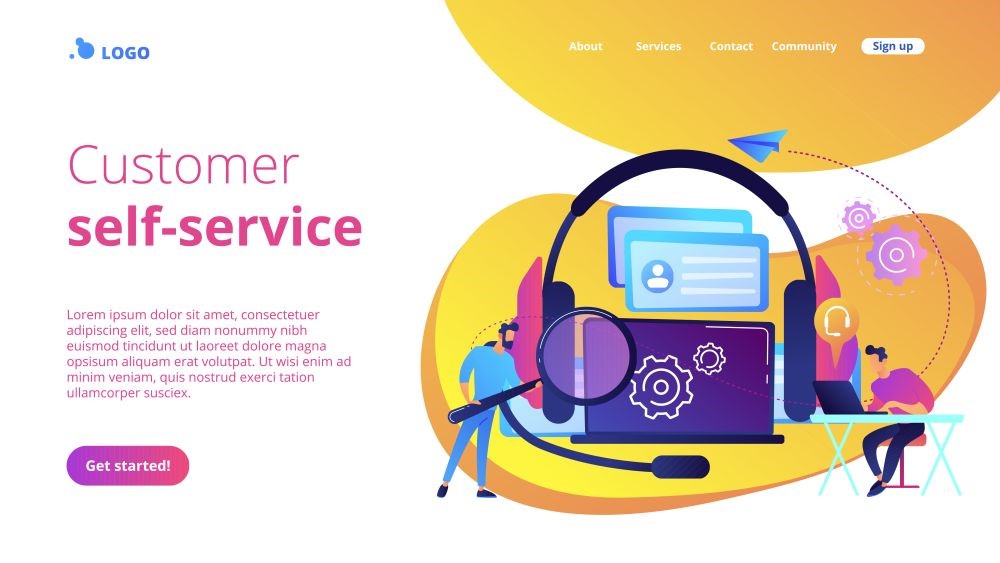 This will ensure customers can perform some tasks at their own convenience. This will ensure they don't experience unnecessarily long waiting times. Some examples of this strategy include; self-checkout, online self-serve, and live chat solutions. What needs to be available here is a business website that has self-service features, is responsive, and is fast enough to not lead to customers' frustrations.
Consider going for designs and layouts that are easy to navigate and improve user experience on your website. Ensure the other end is always manned to promptly respond to customer queries. However, people will always require human attention, no matter how efficient technology is. Assign someone to standby and give answers if a customer needs a human touch. Make it easy for customers to switch from online self-service to voice calls.
This is applicable mainly in customer service businesses with so many calls to attend to daily. Instead of putting your customers on hold for a non-specific period, you can politely inform them that you'll call them back shortly after.
Keep your promises made to your customers, and always stay true to your word by calling them as soon as you can do so. By doing this, customers will be free to attend to their daily duties with the relief that someone is looking after their interests. Furthermore, customers will be happy knowing they didn't have to waste their precious time waiting on hold.
Finally, do not let the success of your own business get into your head and overshadow your responsibilities to your customers. Keep in mind that you still need the same customers to survive your business now and in the future. Make the levels of your customer care services consistent.
Please don't raise your customers' expectations, only to disappoint them later. You'll definitely get into serious trouble! Stay focused on your responsibility to provide excellent customer service as much as you can. These days, customers are pretty informed and less forgiving. They'll notice if you're slacking in implementing good customer care services and drop you without notice!
Make it your mandate to keep your customers happy and satisfied by always striving to minimize waiting time of your customers. Making your customers wait for long to obtain required services and products will only frustrate and make them angry. Employ the above strategies to minimize waiting time of your customers, and you'll be well on your way to retaining your customers and causing them to you.
Conclusion
The way you treat your customers matters and plays a massive role in determining the survival of your business. With the stiff competition in the business world, the best thing you can do for yourself and your business is hold onto your loyal, repeat customers! This will help your business survive and thrive in the prevailing harsh economic times.
It does not even matter what business niche is, and fierce competition can push you right out of the radar so fast you would understand where you went wrong! There are plenty of options available for customers out there – both online and offline. This only aggravates the situation of small-scale or even large-scale businesses clamoring for fresh customers.
For your own good, spare your clients the pains and frustrations of having to wait longer than they'd hoped for to get services. Long waiting time can potentially paint your customer care services in a bad light and create a notion that you are overwhelmed and can't keep up. For this reason, it's best advised to practice the above-discussed 13 strategies to minimize waiting time for customers.
If their expectations are not met, customers will not hesitate to move on to a different organization, as long as they can meet their needs. So many options are currently available for them, even at the mere click of a button.
For these reasons, make sure you treat the customers you already have well and show how much you value them. Always remember that implementing good customer care services will help you so much in retaining your loyal customers. Make an apparent effort to minimize waiting time a customer has to undergo before obtaining the services they need or require.