After starting a restaurant business, finding a way to attract and retain customers is a big hurdle. You have to consider changes in seasons, especially holidays that people observe each year and plan how you will capitalize on them to expand your business.
Spooky seasons such as Halloween provide entertainment for everyone and many opportunities for restaurant operators. Customers spend a lot of money on Halloween every year; therefore, restaurants must make solid preparation for this event.
Halloween generates a lot of revenue for restaurants since it provides them a chance to attract a lot of guests. Restaurant owners should consider extra entertainment, menu items, costumes, decorations, and Halloween goods as Halloween approaches.
Is Halloween busy for restaurants? In this post we will discuss the top restaurant marketing strategies for attracting more customers during Halloween. But first, a few words about Halloween.
What is Halloween?
Halloween is a holiday celebrated the day before the Western Christian feast of All Hallows, which kicks off the Allhallowtide season. Halloween is a primarily secular event celebrated on October 31st in parts of Europe and North America. Pranks, parties, costumes, and trick-or-treating are all part of the Halloween celebration.
Is Halloween busy for restaurants?
Is Halloween busy for restaurants? It all depends on where you reside on the planet. For example, pubs and drinking establishments are more prevalent in the United Kingdom than restaurants.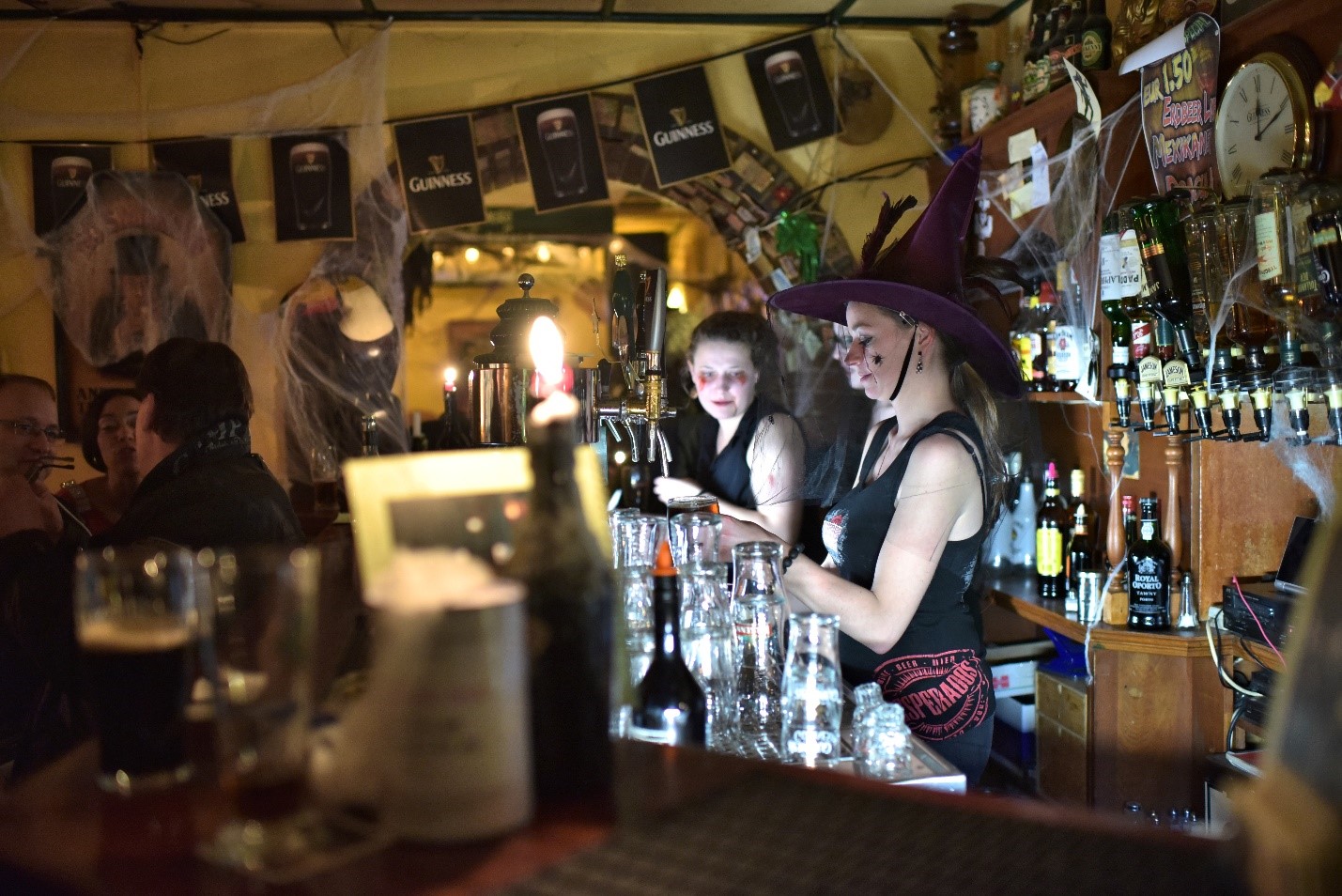 Author credit: By Hinnerk Rümenapf (Hinnerk R) – Own work, CC BY-SA 4.0, https://commons.wikimedia.org/w/index.php?curid=63739100
As a result, it is critical for restaurants to embrace the Halloween theme to maximize their potential for increased revenue.
What are the finest adult Halloween party hosting tips?
Although the Halloween festival has developed significantly throughout the years, people have always been captivated by spooky creatures that go bump into the night. Whether you enjoy the costumes or horror, virtually everyone agrees that October is one of the most enjoyable months of the year.
Here are some pointers to get into the Halloween mood by throwing the ultimate adult Halloween party.
Provide workers with cosmetics and costumes for Halloween
Your staff members' festive attire and overall look can play a part in establishing a memorable Halloween ambiance. Ensure you procure masks and costumes for your personnel to look ghostly to clients. You might be even more serious and select some well-liked theme costumes for your staff, like a vampire or mummy.
With a Halloween playlist, you can dance until sunrise
Is Halloween a busy time for restaurants? No, but to be a perfect host, you must play theme music to build the scene. It is simpler to keep the party going if you utilize streaming services like YouTube or Spotify to play your music.
Create a theme for your Halloween party
Halloween may take numerous forms, depending on your preferences. For example, you may hold a lovely costume contest or a spooky adventure theme. The theme, however, should impact how you design the party area.
Consider engaging your visitors in Halloween activities
Adults may play like children, and while they may be more self-conscious about letting free, a little alcohol can help. Later in the day, you might opt to organize some games for your visitors to engage and connect. These games will undoubtedly be a hit at your party.
Create an ideal ambiance using mood lighting
Create a lively party environment. Use candles, strobe lights, and colored lights to provide enough light for the party. Make sure you have access to sufficient illumination if you plan to take part in activities like pumpkin carving or a costume party so that everyone can have fun while being safe.
Create a unique Halloween party hashtag
You'll want to relive the memories of your amazing Halloween party by browsing through images from the occasion. When your visitors post pictures to social media, ensure they include a hashtag exclusive to your celebration. When it's finished, you may go through the images to see how much fun your buddies had.
What are the ways to attract restaurant business on Halloween?
Is Halloween busy for restaurants? It all relies on how your restaurant attracts customers. In most parts of the world, Halloween is becoming increasingly popular. Here are some ideas for attracting restaurant business over the Halloween season:
Organize and decorate an event
This is especially useful if you want to have group reservations. Make an appealing atmosphere for families looking for a big day out over the weekend to arrange a party that children will enjoy.
This creates a remarkable experience for both groups and families that they will remember for the rest of their lives. And this can successfully ensure a return in the coming months, allowing your consumer base to expand.
Make use of social media
One of the advantages of using social media is that it enables you to contact more people via your customers' phone screens. You may post the updates with your followers, informing them about your restaurant's upcoming Halloween plans.
You may also ask visitors to tag you in their online postings if they want to share their Halloween adventures on your website. When people tag you in their posts, they notify their friends and family about your service.
Adapt to a seasonal menu
Make sure to include a selection appropriate for this time of year in your menu to adjust it to the season. The Seasonal menu refers to fresher items quickly after they are harvested, such as pumpkins which are touchstones for the Halloween season.
You may surely draw in a seasonal dining audience and patrons who support the restaurant's sustainability operations with an altered menu. So adding such veggies is not something to overlook as they are a cost-effective strategy to retain demand.
Sponsor or participate in an event
Participate in a local Halloween-related event, as this will give you an excellent opportunity to promote your restaurant's Halloween event. You can establish a pop-up stand at an event and provide some specialties you desire to serve throughout Halloween.
It will also let you know whether or not people will like the new food item and whether or not you should include it in the Halloween-exclusive menu. You can also use this as an opportunity to sell tickets for your restaurant's Halloween event.
Hosting costume parties and competitions 
Everybody likes to dress up during Halloween; costume parties or competitions are a great excuse. Hosting such events are great restaurant marketing strategies as many people would like to be a part of it, especially if there are incentives involved.
You can start the celebrations one week before Halloween with a different theme for each night and hand out discounts or prizes for different categories like the scariest look. Let other guests vote for the best costumes and then award the winner.
Promotional packaging
Thoughtful packaging is one of the most acceptable methods to give customers a quality, off-premises eating experience. Halloween-themed packaging for takeout and delivery meals may spread the word like wildfire.
The package's colors, aesthetics, and forms are all important, and this has the potential to result in the creation of the ultimate marketing recipe. To make the user experience more expressive, place social media addresses and QR codes on the products.
Halloween treats and complimentary beverages
Sharing joy is the true meaning of the holiday season. You may provide special deals as a restaurant owner to entice customers. For instance, you may advertise that the first ten couples or groups to come would receive a free drink or a discount on takeout orders.
You might even elect to take the game further by inviting foodies to tag you in their Halloween photos. In exchange, they will receive a special discount.
Family dinners and combination meals
Families and friends gather together to celebrate holidays during this time of year. Customers frequently search for family packs and combination offers that provide significant discounts since catering to a large gathering becomes a difficult task. Make family-sized dinners available for curbside pickup, delivery, and takeaway.
Trick-and-treat 
Trick or treating is mainly intended for children, although adults can also participate. On Halloween night, provide your visitors with candy bags and other treats. For families to pick you up before their door-to-door candy collection expedition, let them know that you are organizing this event.
Introduce some restaurant gift cards and let your clients know they have a chance to win amazing prizes to pique their interest and increase attendance. Additionally, you may snap pictures and upload them on social media to advertise your trick-or-treating event before Halloween.
Conclusion
Is Halloween busy for restaurants? If you do it properly, Halloween presents a tremendous economic opportunity for eateries to increase revenue. Make the most of this special day by using the suggestions above to make Halloween at your restaurant unforgettable.