Your ability to generate repeat business and referrals depends on how you deal with your clients. Customers that receive excellent service get satisfied and remain loyal. Using a customer order management solution is one approach to delivering.
While excellent food can win customers' hearts, convenience keeps them repeatedly returning to your restaurant. Making sure that clients aren't restricted from using the call in orders is one of the simplest ways to make ordering from your restaurant website.
Direct online ordering, which forgoes call in orders, is advantageous to your clients and the best course of action for your company. It may enable you to accept more orders, thus boosting profitability and reducing order mistakes, eventually improving customer satisfaction.
In this post, we'll examine the differences between ordering meals over the phone and ordering them online and how each approach functions. However, let's first look at ways to enhance your customer order management before discussing some of the justifications for your restaurant, from taking call in orders to accepting online orders.
What are some ways to improve your restaurant's customer order management?
Customer order management is company procedures and services involved in processing, ordering, fulfilling, shipping, delivering, and following up with customers. Here are some tips you may take to enhance your customer order management services, as listed below.
Assemble the order channels
You may lessen the likelihood of orders being lost or misplaced or errors being made in order entry by restricting the channels they place to your sales reps and your cloud-based client order entry software. Additionally, this facilitates the automation of your system.
Bring your staff on board
Even if you have the best system, it won't help if your staff isn't on board. So your employees must be trained in the system to be effective. Sales representatives must understand how much a customer order system may boost their sales productivity.
Make it customer-friendly
Provide your clients with information that is simple to access with the sort and search tools so they can make orders, see purchase history, and check the status of outstanding orders without having to waste time attempting to get in touch with your sales personnel.
Automate the process
Automation will significantly minimize the quantity of manual entry required for the process and the likelihood of errors. The information will automatically enter when your clients place an order on the personalized form.
Sync your menu with your client order system
Customers dislike ordering foods that are either not on the menu or are not yet ready, which can result in extended wait times at the restaurant. Once people experience such problems repeatedly, they will look elsewhere for the dishes.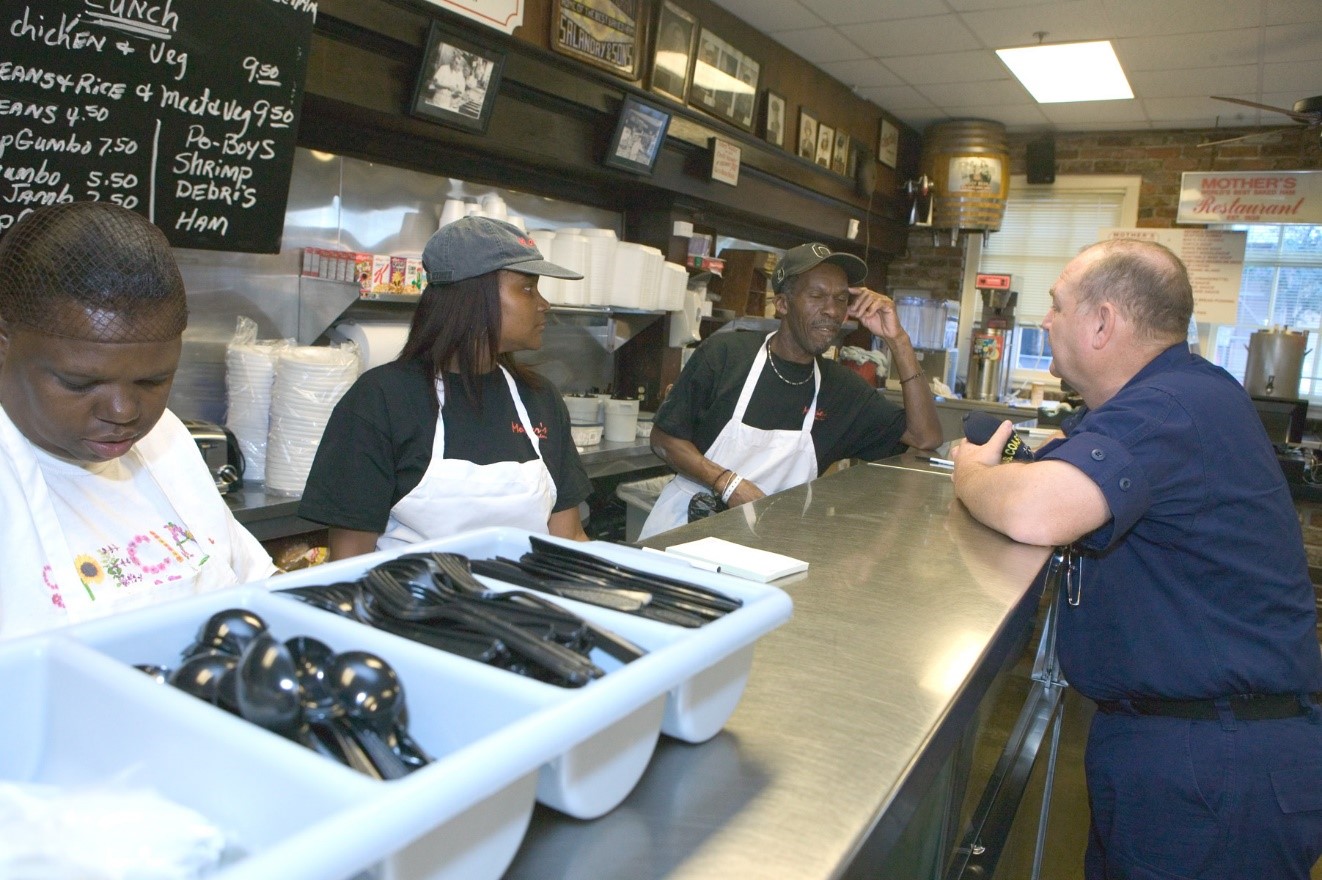 Author credit: By Andrea Booher – This image is from the FEMA Photo Library., Public Domain, https://commons.wikimedia.org/w/index.php?curid=8083832
Ensure that your order system automatically keeps track of your food menu and shows it to the consumer with the most current availability and price.
What are best practices in order-taking in restaurant customer service?
Below are some of the best practices in order-taking in restaurant customer service. Restaurants that have followed these practices have seen substantial growth in their conversion ratio.
Ensure simplicity
A restaurant that has a quick and easy order-taking procedure benefits greatly. In the short term, the restaurant may enjoy faster and larger sales conversions and customer acquisition, while brand credibility and excellent customer happiness result in a long time.
Keep it private and safe
Restaurants have access to a lot of private client data when accepting orders. Therefore, restaurants must follow industry standards and have strict systems when handling client information.
Keep a record of your communications
Every encounter with the consumer ought to be recorded and communicated to all parties, and this not only protects against any misunderstandings but also guarantees that the expectations are reasonable. Documents can also be beneficial for subsequent information extraction or checking client history.
Have a good customer service team
Customers' experience with online buying varies, and as a result, so does the kind of crises they experience. It is crucial for the front-line staff at your restaurant who provide customer service to speak with customers in a considerate and polite manner.
In this regard, you should train your personnel to communicate clearly and thoroughly and understand the dishes and the procedure; this will help avoid delays that might result in lengthy waits.
Keep on informing the customer about their order progress
Keeping clients updated on the status of their food orders is an intelligent practice. Customers feel more confident that their demands will be completed and delivered when they can track their purchases. Sometimes, logistical problems arise; even in these situations, you should adequately inform them and counsel them on the best action.
What distinguishes online ordering from call-in ordering?
It doesn't matter if you prefer analog communication; online restaurant ordering has many benefits. Let's contrast traditional calls with online orders to support our argument.
Call in orders
Most restaurateurs received takeaway and delivery orders mainly over the phone until a few years ago. The customer had to contact the restaurant to place their order, and an employee took it over the phone and manually entered it into the POS system, which then notified the kitchen to start making the food.
The procedure appears straightforward, but it may be challenging if your phone line is busy and clients can't get through. Call in orders carry a significant risk of inaccuracy since staff members sometimes have trouble hearing what clients are saying, especially in a noisy setting like a restaurant.
Similarly, customers might not always hear or comprehend what staff members say; this can lead to misunderstanding and wrong orders leading to recurring customer dissatisfaction.
Online ordering
Online ordering has grown in popularity over the past several years. Depending on your system, consumers can utilize an online ordering system to request delivery or takeout from your restaurant.
Customers may place orders through your websites using a direct online ordering system, which is subsequently transmitted to your restaurant's point of sale system (POS).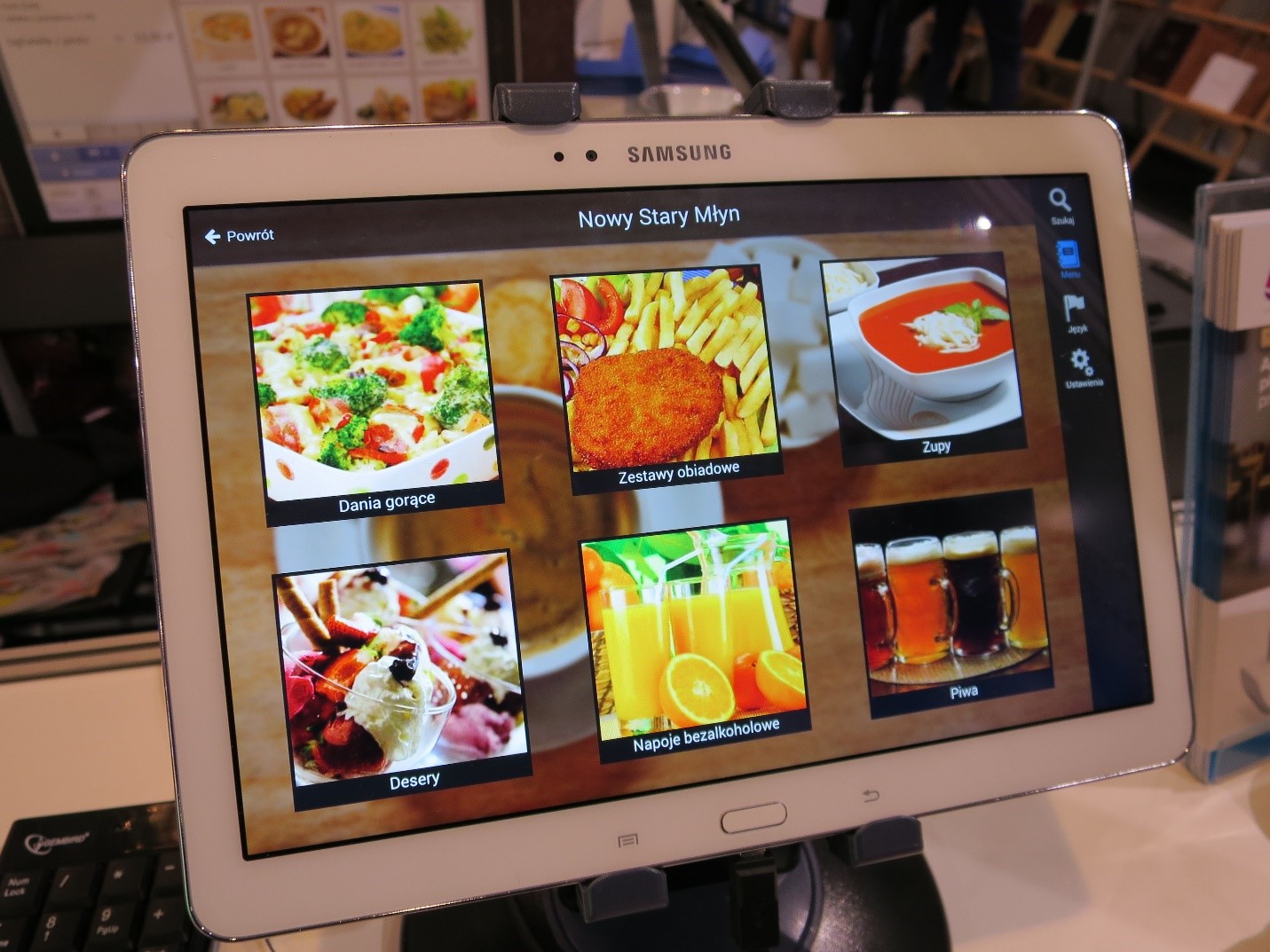 Author credit: By Travelarz – Own work, CC BY-SA 3.0 pl, https://commons.wikimedia.org/w/index.php?curid=44910925
The second alternative is for consumers to place their orders via a third-party app like Uber Eats, after which the information is transmitted to a particular tablet and manually entered into your POS.
Depending on the kind of online purchasing you use, accepting orders may still require some staff participation though it will be much less than call in orders. Online ordering improves order accuracy, whether you select a direct or third-party alternative.
What are some of the top restaurant online ordering systems?
Dining preferences are evolving, and restaurants have been implementing pickup, carryout, and delivery services to keep up with the demand for more diverse dining alternatives. As a result, to remain competitive, many restaurants have been forced to include online ordering platforms such as:
MenuDrive
Restaurants who wish to build a branded online ordering experience through a specific website can use MenuDrive. Restaurant operators may use this method to transform their menus into interactive websites that let consumers personalize their orders. With MenuDrive, you have complete control to edit your menu from any internet-connected device.
Toast
Toast, a restaurant management suite, provides full-service restaurants with a point-of-sale (POS) system that communicates with an online ordering system. The two tools might help eateries manage daily tasks like online ordering and delivery when used in tandem.
Upserve
Upserve offers a full-service restaurant management solution with an online ordering platform in addition to its POS system, smartphone, and payment services. It is known for being simple to use, implement, and manage.
iMenu360
A platform for online ordering that enables restaurants to design an interactive, personalized menu for their websites. It also contains other features, including loyalty programs, customer feedback surveys, and a customer database. It is mainly intended for a simple website and POS system connection.
Square
Any restaurant looking to streamline in-person and online ordering should use Square, a two-in-one ordering solution. Square online ordering solutions can help create your website for collecting orders, sending orders to the POS system, and tracking and managing the entire ordering process.
What attributes should a quality restaurant website have?
People utilize the internet to search for restaurants that are foreign to them since they have so many alternatives for where to dine, and they don't want to make a poor choice.
Here is your chance to convince them that dining at your establishment will be a wonderful experience. Your restaurant website should include the following elements to stay competitive:
Show off your menu
You don't want to offer a prospective customer a cause to quit your website and hunt for anything else. Make sure your website's menu provides a link that is simple to discover. The menu should be accessible and up to date when a client clicks on the link.
Fantastic photos
Not just the food but also the decor of a restaurant is a significant factor. Your website should thus include stunning images of the food and the setting. It's a beautiful chance to show off how delicious your food is and how nice your restaurant is.
Online ordering
You will lose customers if your website does not allow users to order food from their computers or mobile devices. When you incorporate an online meal ordering system into your website, customers may order food for immediate pickup or delivery.
Directions and contact information
Please include any pertinent information, such as your restaurant's address, phone number, and other specifics that will make it easy for visitors to discover you and make it easy for people to find your establishment.
A google map of your location will be helpful to customers who need instructions, and it will spare your employees the time-consuming task of giving directions over the phone.
User-friendliness
Your responsibility is to make customers feel at home and satisfied with their dining experience and cuisine since several restaurants are available. If you have a well-designed, eye-catching website, you will convince the customers that dining at your restaurant is a risk worth taking.
Use of social media
Given that the majority of people now use social media, it is evident that your website should make it possible for visitors to interact with you on social media sites like Facebook and Twitter, among others. Ensure that you link your social media profiles to your websites and that all of your social media pages include the URL of your website.
What are the benefits of switching from call in orders to online ordering for restaurants?
Online ordering technology is transforming how restaurants engage with their clients by boosting convenience and enabling consumers to order whatever they want, using whatever device they like. Let's examine some factors that have led most restaurants to stop using call in orders and start accepting them online.
Increased accuracy
Even the most incredible person in the business can make mistakes while receiving the call orders since they are still just human. This is especially true when time, stress, and noise factors are present. On the other hand, online ordering enables your consumers to place their complete delivery orders independently via your website.
This drastically lowers the margin for mistakes throughout the transaction process, reducing the number of complaints you receive and the amount of wasted restaurant food you produce by distributing incorrect orders.
You will profit most from accurate online ordering if you allow clients to buy directly through your website rather than through a third-party app since your POS menu can be accessed from the cloud using a direct online ordering mechanism.
Improved customer experience
When placing the call orders, customers may be unable to view your menu or all of your offers, making the decision-making process more challenging. Additionally, it might take some time for you to answer a question concerning your cuisine on the phone while holding up the lines; no one likes being placed in wait.
Thanks to online ordering, your clients will instantly access all the menu details they want. In this manner, individuals can choose the food at their own pace and get precisely what they want.
You can use a customer loyalty program to increase the appeal of takeout. So that each time they buy a meal from your business, customers may accrue points and receive prizes. This will encourage your consumers to place further orders, increasing your income.
Excellent employee performance
If your staff is still taking orders over the phone, it likely suggests they are overworked and have little time for other duties like cleaning tables to flip for your next seating, which might result in a long wait for service or a crowded restaurant.
As an alternative, an online ordering system will transmit orders to your POS, freeing up staff members some time to work on other tasks and ensuring speedy service at the restaurant. Instead of waiting on hold for extended phone calls to receive orders, an online ordering system makes it feasible to examine and accept orders in a short amount of time.
Finding a cutting-edge, user-friendly online ordering system is the key to efficiency. Even for less tech-savvy personnel, this will simplify the training process and speed up the time it takes to have the system up and running.
Boost the number of orders
Call in orders limit the number of orders your restaurant can handle, and if a client repeatedly gets the busy signal, they are less inclined to call back. This is a specific method to give them an unfavorable impression.
On the other hand, online ordering lets your consumers place orders whenever they choose and allows you to take more orders concurrently. Since phone lines are no longer a bottleneck, restaurant personnel may start serving more food, especially the kitchen crew, which will result in quicker service at your establishment.
Boost sales
Another significant advantage of using digital ordering rather than call in orders is upselling. Customers may take their time selecting their ideal meal when purchasing online, and they are more susceptible to being persuaded by a menu designed to upsell.
However, when clients order over the phone, they could be in a hurry to place their order and take less time to consider all of the alternatives you have available. Third-party online ordering platforms can also help you increase sales, but most of those gains are lost to high commission costs.
Payment is prioritized
Customers that place online food orders pay in advance, so you are guaranteed payment. Unless they want to pay when they put a phone order, your customers typically pay when they pick up their items. If the client doesn't show up, there may be a loss in cash, merchandise, and labor.
Extra time to look over the menu
Customers may be interested in the specifics of the meal alternatives; thus, it's critical to include descriptions and information in the online ordering system. The online menu will provide consumers with additional details about the available foods and give them the freedom to peruse the menu at their own pace.
What strategies should one use to select an online ordering system?
After deciding to use an online ordering system, an important step is to research your options. Consider the following tactics to decide which is best for you:
Ensure that it is compatible with your POS
Online ordering solutions for restaurants must smoothly interface with your POS system to fully utilize your restaurant's resources and provide customers with the best possible experience. Once you've selected the proper software to give customers excellent service, ensure it works with what your current POS offers.
Identify the preferred system for your audience
Your target market should use your online ordering system regularly enough to start establishing views about its positive, negative, and other aspects. Include their comments in the coordination between your POS and the online system. Utilize this knowledge to upgrade and spend money on your online ordering system.
Make sure you have excellent assistance
At restaurants, delays are seldom a welcome sight. Additionally, while restaurant online ordering systems are meant to simplify things, having resources on hand to address delays might be crucial. Make sure the online method you choose has assistance that enables your online ordering system to continue operating amid spikes.
Look into their costs
Variable systems have different transaction fees, others have a fixed monthly cost, and some have both. Determine how much of the labor-intensive technical work you want to delegate before comparing all your available choices to discover which offers the most value for your money.
Maintain client information
Online ordering allows you to collect customer information for your customer relationship management system, which you can then utilize to keep loyal clients and encourage repeat business. A method for online ordering will offer insightful information about your customers' preferences, spending patterns, and purchases.
Conclusion.
Customers crave convenience and efficiency; thankfully, that's what an online ordering system provides. The days of call in orders are in the past. Make sure you have a system that is easy to use and will save you money.
After covering the differences between a call ordering system and an online ordering system, it's clear that there are many benefits to swapping your restaurant phone system for a direct online ordering system.